Friday, 7 May 2010
Posted by

Miss
at 13:16
No comments:
Links to this post


Posted by

Miss
at 13:07
No comments:
Links to this post


Saturday, 1 May 2010
Perforated Leather
by Megs Mahoney Dusil
After visiting multiple showrooms this past fall the
Handbag Trends for Spring 2010
were clear. One of the biggest trends is
perforated leather
. We saw this being used by
Rebecca Minkoff
, previewed it with
YSL
, and
Prada
is implementing perforated leather for many of their bags.
For Spring 2010 expect to see perforated leather from Prada, to Jimmy Choo, to Burberry, to Bottega Veneta. Prada's perforated leather has an extremely sporty vibe which is largely due in part to the shape of the bags they are using it on (note the Prada Roll Bag). While Prada's look is very sporty, we have an array of designers using perforated leather in various ways to give the bags a fresh spring look.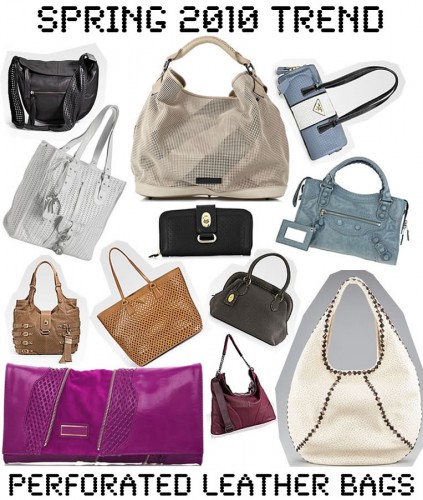 Jimmy Choo has really done a beautiful job with their perforated leather bags. We have already covered their Martha Perforated Clutch, which infuses perforated leather with smooth leather as well. Then they have the Bree Perforated Nappa Leather Tote along with the Fracine Perforated Leather wallet, both favorites of mine.
The type of perforation varies by designer. Some are uses larger holes while others are using more uniform small holes. There are also options for bags that only feature perforation in certain spots but not all over. When it comes down to it, adding a perforated leather bag to your collection may be trendy for Spring 2010, but if you choose wisely you may find a bag that works in your collection forever.

Source : http://www.purseblog.com/trends/spring-2010-handbag-trend-perforated-leather.html
Posted by

Miss
at 21:22
No comments:
Links to this post


Jimmy Choo : his past and present
Jimmy Choo are legendary. Fashionistas all over the world treat them with awe but what do they know about the designer and his way to fame? I'm sure not much. This article will give you some interetsing information on how
Jimmy Choo
could achieve such success.
Now the designer has lots of wealthy clients but it wasn't like this all his life. The 51-year-old revealed some facts about his childhood and youth.
Choo grew up in the Malasian province of Penang. His father was a successful shoemaker who used to create fantastic pairs for his customers. The craftsmanship was so interesting for the young boy that he watched his father with fascination. Young Jimmy was eager to learn the basics and work on his own shoes. With his father's guidance, Choo made his first pair of shoes for his mother when he was 12.
The designer feels very grateful to his fasther for the skills he got from him:
My father was an artisan, and he taught me so many of my skills," he says. "He told me that if you have a skill, you can travel the world with it."
The renowned shoe-maker considers it right to pass skills from generation to generation, from fathers to children. He even teaches young shoe designers while taking on apprentices as often as he has time for that.
Britain is the best place for an education – that's why I came here. It taught me the rest of my skill. It also has a strong history and tradition for shoe-making, but it is dying or going abroad to Italy, where there is more manufacturing, or China, where labour is cheap.

In the old days, parents liked to pass their skills on to their children. They still do in my home country and much of Europe, but not so much here. I had dinner with Gordon Brown a few weeks ago, and I told him all this. I said we must support the young people. He agreed with my message."
In his early twenties, Choo came to London to finish his education at Cordwainer's College in Hackney, now part of the London College of Fashion. By the way, Jimmy Choo is an "ambassador for footwear education" at this college now.
Choo's professional career started when he arrived in Britain about 25 years ago. And it was gorgeous Princess Diana who contributed a lot into his success. Princess of Wales first met the designer in 1986. At that time Jimmy didn't have many orders. He used to cobble two pairs a day from a studio in London's East End. But Lady Diana believed in him and this was a huge encouragement.
Lady Di helped me a lot," he says. "She trusted me, and for the first seven years I was making shoes for her, I kept it quiet and nobody knew it was me. Even though she was a princess, she often wanted very simple things. She loved flat pumps, even though I always wanted to put her in sandals because she had the most perfect feet. She was always eager to exchange ideas, and she never said no to anything."

When I started doing her evening shoes, everyone noticed and in those days anything she wore, people followed. She was wonderful and used to invite me to Kensington Palace at Christmas for champagne and mince pies. I made her last pair of shoes just before she died. Gold pumps. I was going to deliver them when she came back from her summer. I am sad I never could."
Now Choo has plenty of celebrities as his fans. And they pay good money for each designer pair. Jimmy likes working with individual clients rather than with mass shoe production. He wants each pair to be classy and unique. That is why he doesn't feel happy about the new venture of the company that bears his name to make cheaper shoes for ordinary clientiere.
When the designer felt he had a long list of privileged clients he sold his stake in the Jimmy Choo label. This happened in 2001 and can be partially explained by creative tension with his now former business partner Tamara Mellon. Since his split with Mellon, Choo has focused his attention on handmaking bespoke shoes for his Jimmy Choo Couture label in the basement workshop of his only shop, on Connaught Street.
Each pair is elaborately designed and made. For each pair, every angle and arch of his clients' feet are meticulously measured.
I design like an architect," he says. "It's a beautiful, distinctive art, and shoes are like the foundations. If the foundations aren't right, the building won't stand upright, and if a woman's balance isn't right, nothing else is."
Of course a pair that is created with such a skill and labour cannot be cheap. Prices start at £650 ($1000) a pair, and if a pair comes with a more elaborate design it can cost double that. But his clients never care much about the price. They know what they pay for.
My shoes are beautiful, but they fit and they last," he says. "Yes, there are cheaper dressy shoes on the high street, which is good for choice, but do they fit properly and will they last? My clients keep my shoes for ever."
Jimmy Choo doesn't regret over leaving the Jimmy Choo label which now has multi-million-pound returns selling sunglasses, handbags, asymmetric dresses and black leather trousers as well as shoes.
In life, you never know what will happen, but, for me, skill is more important than big returns.

I am grateful to my late partner, Tom Yeardye (Mellon's father who loaned the pair £150,000 (over $250, 000) to start the label). He promised to change my life, and he was true to his word."
Besides, Choo values the time he has now to spend with his wife, Rebecca, and their daughter, Emily, 18. This time would be impossible to free for the family if he still worked with the Jimmy Choo label.
Talking about the label he used to have the control over Choo is very diplomatic. He never says anything bad or offending though he might have said something to change the talks in the industry. The designer admits his self-control has been enhanced by frequent calls to his guru in Malaysia, Eddie Wong, a 37-year-old spiritual master in Penang.
Choo has learned a lot from Eddie about feng shui and chi, an energy-creating Eastern philosophy. When Choo returns home, the men always meet for one-on-one consultations.
I call him every week, and he guides me in everything. He teaches me meditation and how to be calm. I used to get very angry when my shoe-makers did something that was not right, but not any more. He also has taught me I must never be jealous of anything or anyone. That is why I am so happy to pass on my skill to the young ones, and I don't mind if they will one day be competition. You must know how to spot talent and help it.You must never be jealous."

Source from http://www.millionlooks.com/footwear/jimmy-choo-his-past-and-present/



Posted by

Miss
at 20:03
No comments:
Links to this post